By Rajeewa Jayaweera –
Dear Mr Prime Minister,
I join my compatriots in extending a warm welcome to you to Sri Lanka. Almost 28 years have passed because Prime Minister Rajiv Gandhi (RG) visited this island. As you are effectively aware, his visit was shrouded with some very complicated and unpleasant issues for the duration of the periods quickly prior to, in the course of and after his go to. It is hoped your pay a visit to will be a prelude to a new connection based on friendship amongst equals and mutual respect.
The deterioration of relations amongst India and Sri Lanka commenced about 1980 when Indira Gandhi (IG) was elected Prime Minister for the second time. Sri Lankan President JR Jayewardene's (JRJ) pro-western foreign policy antagonized India immensely, prompting IG to adopt a hostile attitude and embark on a mission to punish JRJ. A virtually purpose created issue was at hand in the separatist movement by some young males in Sri Lanka's Tamil community. Relations deteriorated from 1980 when India below the direction of IG and assisted by its intelligence arm RAW and Tamil Nadu state government began destabilizing Sri Lanka by way of delivering a protected haven for separatist groups, instruction facilities, weapons instruction and funding for their activities and culminating with India repeatedly voting against Sri Lanka at the UNHRC in Geneva from 2010 departing from its preceding policy of not voting on country specific issues. Former President Mahinda Rajapaksa's (MR) 'Look East' policy by forging closer economic and military ties with China who have extended unconditional support to Sri Lanka more than the years and the willingness by China and Pakistan to sell arms to GoSL when India was reluctant to give weapons need to be pointed out in this context.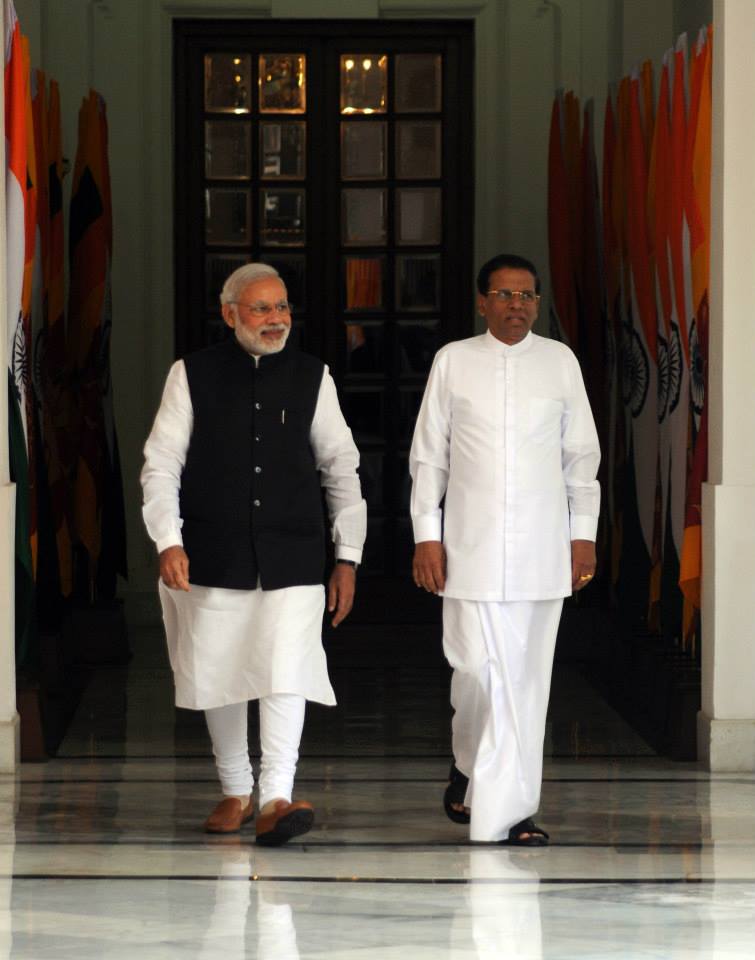 To reset relations, it is needed for each countries to produce an atmosphere of mutual trust. Notwithstanding the initiatives by the Sirisena government, there exists a huge trust deficit in our relations. The perception of double requirements on India's part prevails even in these days. Your meeting with a TNA delegation in Delhi and National Security Advisor Ajith Doval meeting with Tamil leaders in Sri Lanka does not go down properly in the light of cancellation of talks with Pakistan at Foreign Secretary Level on the grounds of Pakistan's High Commissioner in Delhi having discussions with Hurriyat leaders stating "talk to them or talk to us". Getting involved in the Tamil situation in Sri Lanka and at the very same time insisting on the exclusion of Pakistan in the Kashmir issue is a case in point. In response to Prime Minister Ranil Wickremesinghe's (RW) comment in the course of an interview final week that India ought to show the exact same magnanimity to Italian sailors at the moment held in India that they request for South Indian fishermen poaching in Sri Lankan waters, Indian Foreign Minister Ms Swaraj had supposedly informed RW that "these are two various problems. Concerns of fishermen are a humanitarian concern. It is an concern of livelihood". What Ms Swaraj and India want to comprehend is that it is a livelihood situation for our Northern fishermen as properly. Further, India's 'humanitarian' problem is for Sri Lanka a 'humiliating' problem. In a manner of speaking, it is a repetition of the 1987 episode – only this time not our airspace by IAF transporters and fighter jets but our maritime boundaries by South Indian fishermen.
It is in the interest of each Sri Lanka and India to reset our relations to a pre-1977 level when issues amongst the two countries had been settled amicably with mutual respect. The Sirisena government has taken some initiatives to address one of India's primary concerns i.e. the Colombo Port City Project which has been temporarily suspended. Even if the suspension is lifted, re-negotiation of the clause giving portion ownership to the Chinese to a 99 year lease is in the cards. On the other hand, India is however to demonstrate with any tangible efforts, its desire to reset relations except by graciously getting Foreign Minister Mangala Samaraweera initially and then President Maithripala Sirisena in Delhi. The problem of South Indian fishermen poaching in Sri Lankan waters has received practically no interest from India.
Leaving politicians and the bureaucrats aside, it is relevant to take into account the emotions, sentiments, dignity and self-respect of the majority of the citizens in this country. While not condoning the act, one of Sri Lanka's sons displayed his feelings with the butt finish of his rifle in 1987 for the duration of the guard of honour accorded to RG when he visited Colombo to sign the Indo &#8211 Sri Lanka accord. That accord to us Sri Lankans was a contemporary day surrender of our independence. Creating homes, rail roads etc. contribute towards enhancing relations only marginally. Such action is akin to providing a discomfort killer for a physique pain. It does not contribute towards treating the root cause. The reality is that the majority in this country nevertheless really feel strongly of the manner in which India violated this nation with impunity. At least some really feel India continue to do so covertly.
The Sirisena government has decided to accord you the honour of addressing our Parliament, an honour India did not see fit to accord to President Sirisena throughout his current check out to India. You will be the fourth Indian Prime Minister to do so after Jawaharlal Nehru in 1962, Indira Gandhi in 1973 and Moraji Desai in 1979. The Indian historian and author AG Noorani in a current essay in India's Frontline magazine wrote "India's relations with Sri Lanka will heal only if there is a sincere realisation of previous blunders and of the grave harm that India inflicted on a hapless neighbour too modest to retaliate". This would be an ideal chance for you to set the record right. It would call for but 3 sentences of admission of errors of the previous, regret over them and an assurance of non-repetition. It can be appropriately worded preserving India's dignity. Such an act would help millions in this nation to lastly bury the ugly previous and move on and also a great beginning for India to genuinely and constructively engage in resetting its relations with Sri Lanka and its folks.