By Emil van der Poorten –
I produced a specific effort to attend the Sri Lanka Navy (SLN) vs Kandy Sports Club (KSC) game for a range of causes, chief of which was to see whether or not there had been a alter in what has grow to be a war rather than a rugby encounter and I use the word "war" literally rather than metaphorically!
The early indications had been that, as that American master of the malapropism said, so several years ago, it was "déjà vu all over once again."
The stage appeared set when, in spite of being 1 of a relatively couple of current paid-up members of the KSC, I was not permitted access even up to the club gates (on the public road that goes past them!) to drop off my companion who has a critical heart condition that precludes walking any distance. The police manning the entry point told me that my car was NOT among those permitted access to the location adjacent to the club. I am beginning to wonder no matter whether I am now regarded as a "security risk" in some circles, a status now even the late-unlamented Rajapaksa Regime did not accord me (not to my expertise anyway!)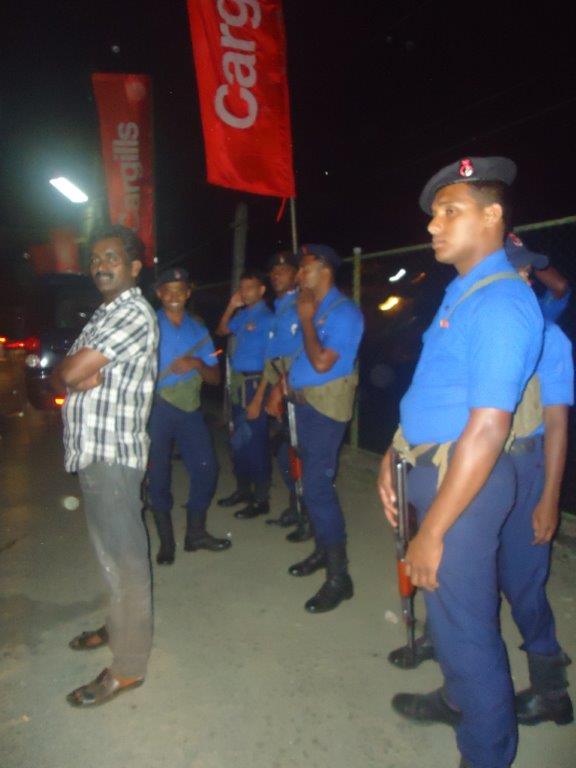 Anyway, having dropped off my partner some considerable distance from the Club, on the promise that she would stroll additional slowly to the club premises, I parked about two miles away and walked back to the grounds. If nothing at all else, even if not by decision, that provided a "constitutional" that I may well not otherwise have had that afternoon!
Coming events seemed to cast their (prior) shadows when I observed scores of SLN personnel along the road, armed with assault rifles. Also, while I do not know regardless of whether the SLN had bought, actually, thousands of tickets for their personnel, at this match as they have accomplished in the previous, a part of the "parking problem" was the quantity of buses bearing SLN licence- and private-plates parked along the roads serving the Nittawela grounds of the KSC. In case there is any doubt on that score, no Kandy supporters use charter buses to get to the grounds of the Club they support, the vast majority merely trudge up the hill!
When I arrived in the Members' seating location of the pavilion, I discovered that my partner had succeeded in persuading a couple of non-members to give up their seats to a couple of septuagenarians who had paid an annual membership charge for the privilege of watching a handful of rugby matches every single year. I was also somewhat bemused to see, seated in a single of the better seats in that very enclosure a lady who was, until relatively recently a member of a single of the "ruling Kandyan families" that is reported to be in the process of participating in a dynastic coming-collectively. It does look that ANY association with the "right" folks, no matter how short-term, brings with it particular privileges not available to those who go the orthodox route of paying their dues!
Anyway, the rugby game itself was closely contested and the SLN eked out a 1-point win which proved to be a Pyrrhic victory since, it wasn't enough to give them the championship the complicated rules of which saw the KSC as the 2015 Champions. One particular of the bright spots of the afternoon was the absence, compared to matches past, of violent or hazardous play and a referee who did not seem to be "under orders" of any kind!
Once the stage was set up for the distribution of the awards and trophy, with the usual bellowing by an announcer who believed in the superiority of volume more than clarity, we had been treated to yet another dose of déjà vu.
At this point, rather than more than-use the word "bizarre" I'd like to replace it with the a lot more appropriate "sinister" for what follows.
Not even during the playing days of the Rajapaksa Crown Princes on the SLN team had we observed the kind of armed presence on public access roads around the Nittawela grounds that we saw on March 15th. Now, we had a sailor in uniform, armed with an assault rifle on the stage exactly where the presentation was to be created! This was certainly an additional "first" for The Debacle of Asia in the matter of an occasion celebrating a national sports championship. There had been sufficient cameras flashing and video becoming shot to prove this beyond the semblance of a doubt. And given the presence of Very Extremely Senior SLN personnel all through this bizarre sequence of events, there can be small doubt that all of it had their seal of approval, not to mention that of the Sri Lanka Rugby Football Union and the Kandy Sports Club's notoriously supine "leaders."
You want a bit of icing on this distinct cake? The trophy that was presented was courtesy of Dialog, the Telco, and doing so, front and centre, actually, was no significantly less that Hans Wijesuriya, the man beneath whose watch, this very publication, Colombo Telegraph (CT) and many other websites, had been blocked, stopping each and every Sri Lankan's proper to details. I would suggest that this gentleman's time could have been much more appropriately spent in explaining to the Criminal Investigation Division of this nation the certain democratic practice he was applying by presiding over the blocking of such as CT rather than becoming the cynosure of all eyes at a national sporting occasion!
On the other hand, I suppose that this could be regarded as straightforward proof, if such proof is needed, that it pays handsomely to act in assistance of a violent and corrupt government with no risk whatsoever of any so-known as subsequent "reformers" making sure that the law and order they claimed to champion is applied against those who prevented the citizens of this nation from enjoying their elementary democratic rights.
And for the seal of (current) government approval, if one had been necessary, you had the lately-minted President of the United National Celebration who is also the economic Godfather of the KSC as everybody knows, as an active participant in all of this, with customary smile and bonhomie!
Does any person need to have the irony of all this pointed out to them? Or is it simply yet an additional instance of what several of us preserve pointing out: that the current lot, claiming to rescue us from the most corrupt and violent regime this nation has ever knowledgeable, are no far better than those they replaced? Is this simply farce, Sri Lankan style, or a Greek Tragedy getting played out on an Asian stage?