By Dayan Jayatilleka –
"…we're going to speak these days about President Sirisena's thoughts about how to move Sri Lanka away from 30 years of war with the Tamils…"– Secretary of State John Kerry, Feb 12, 2015
Offered that India is Sri Lanka's only neighbor and that it is a large country and an Asian power, it is correct that Sri Lanka regards the management of its relations with India as the top priority. Consequently, it is suitable that the President Sirisena, preceded by the new Government's Foreign Minister Mangala Samaraweera must make New Delhi their 1st location. President Sirisena is fairly appropriate to comply with this up with a visit to China in March.
However, the new Foreign Minister visited Washington DC, and certainly London, ahead of he visited Beijing. This is most unfortunate, given that Sri Lanka's principal identity need to be as an Asian nation and that China is maybe the most essential Asian power and certainly a single of the two top Asian powers, with the other getting India. Given the multifaceted strategic partnership, assistance and solidarity that China has always and unhesitatingly extended Sri Lanka for decades, it would have been each sagacious and ethically appropriate for Foreign Minister Samaraweera to check out Beijing soon after his go to to our neighbor New Delhi and prior to his visit to any other capital, and most undoubtedly ahead of he visited Washington DC. His failure to do so and his check out to the UK and USA prior to China is a clear indication of the external relations doctrine of the new Cabinet.
I emphasize the term 'the new Cabinet', since I think that notwithstanding his occasional pronouncements during the elections, President Sirisena is naturally inclined to be a friend of China and to balance amongst India and China, rather than tilt to India, the USA or any emergent Indo-US axis. Nonetheless, the new Cabinet is emerging as an autonomous energy center, since President Sirisena has chosen not to exercising his Constitutional appropriate to chair Cabinet meetings, and it is the Prime Minister who does so.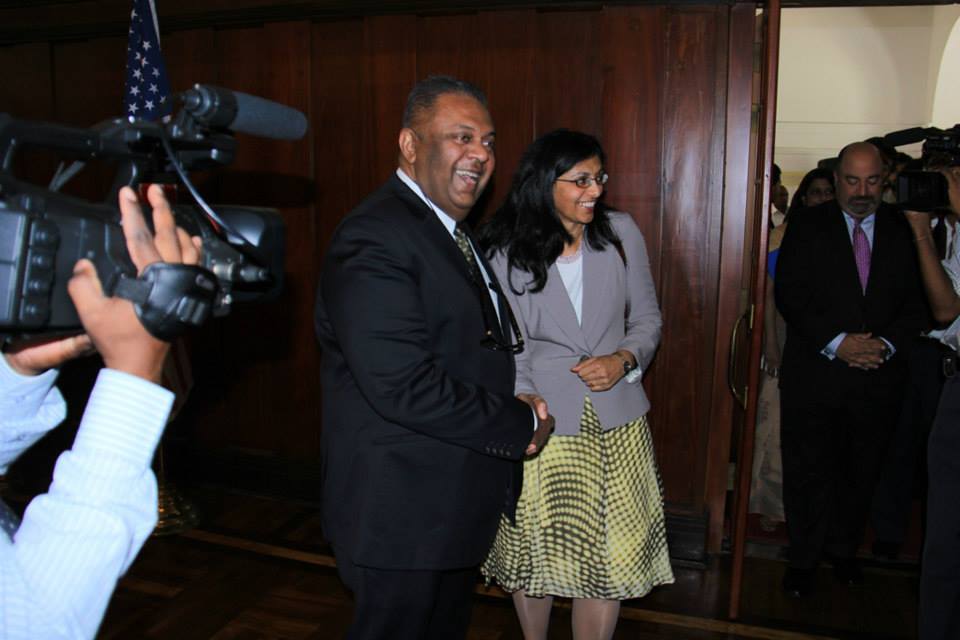 US Secretary of State John Kerry's welcoming remarks on the occasion of his meeting with Sri Lanka's new Foreign Minister revealed two standard truths. Firstly, that even at its most friendly, the US has a slightly prejudiced, if not warped perception of Sri Lanka. Secondly that Foreign Minister Samaraweera is no Lakshman Kadirgamar, the man he succeeded throughout his first stint in the post beneath President Rajapaksa.
Speaking in Washington DC on February 12, 2015, Mr. Kerry concluded his remarks of welcome with the line "…we're going to speak right now about President Sirisena's thoughts about how to move Sri Lanka away from 30 years of war with the Tamils to a country that is inclusive and prosperous and peaceful."
Earlier in his remarks, Secretary Kerry talked of the January 8th election as a "vote to move Sri Lanka in a new direction, to open up greater accountability…and placing with each other a government that will speak for and to the people…"
Mr. Kerry is a very intelligent man, and in any case the LTTE or Tamil Tigers are sufficiently nicely identified, for him to have been aware that Sri Lanka did not wage or experience "30 years of war with the Tamils" but with a separatist terrorist army or militia. So, either the US views the LTTE as getting representative of the Tamils or it thinks that Sri Lanka waged a war for 30 years against the Tamil community. Whichever it was, it is damaging, distorted, insulting and dangerous.
One can think about that had he faced a comparable welcome, Foreign Minister Kadirgamar would have, in his own remarks, gently but clearly set the record straight, rectifying the egregious error. He would undoubtedly not have let his nation and its contemporary history be misrepresented he would certainly not have taken it lying down.
For his portion, Foreign Minister Mangala Samaraweera not only failed to diplomatically correct the utterly false perception of and unfair reference to our nation and implicitly its armed forces, he failed to mention the 30 years of war at all!
Secretary Kerry's referred to the election as a vote to move Sri Lanka in a new path "opening up higher accountability". This demonstrates that the hypocritical invocation of accountability hasn't stopped and that it remains on the front burner of the US agenda on Sri Lanka. There is consequently a gap in between US expectations of Sri Lanka under the new administration, and the national, state and safety interests of Sri Lanka, not to mention the views of the majority of Sri Lankan folks.
Of course Secretary Kerry' remarks were ironic in the intense since the individual who "moved Sri Lanka from 30 years of war", was not President Sirisena but his predecessor President Rajapaksa, and that was 5 years ago. It is nice of Mr. Kerry to hope that President Sirisena would move us to a peaceful and prosperous Sri Lanka, but we've been peaceful and prosperous for five years, on President Rajapaksa's watch.
Following her check out to Sri Lanka, Asst. Secretary of State Nisha Biswal and much more importantly, US National Security Advisor Susan Rice referred to assisting in Sri Lanka's transition. At a single level, the US view rests upon an interesting inaccuracy since Sri Lanka is not genuinely in the kind of transition that the other countries named in their officials' statements are or have been. Sri Lanka is not in transition from a military or any other type of dictatorship or autocracy. It was always a multiparty democracy in which competitive elections have been held. This time the Opposition won and there was a smooth transfer of power following a peaceful election. So Sri Lanka is not a transitional state or society. Nonetheless, the use of the term 'transitional' by the US official reflects the view that Sri Lanka is in some sort of a transition. This can only be a transition from one kind of external relations paradigm which was realistically oriented towards Eurasia, primarily but not only Russia and China, to a competing paradigm which incorporates Sri Lanka into the Western orbit, especially the US pivot to Asia and most concretely, the Indo-US condominium in the Indian ocean region.
The US usage of the term 'transition' with respect to Sri Lanka might have an internal dimension also, in that the new Government might restructure the state, transitioning it from a robust centripetal unitary state structure with a strong center and an executive presidency, to 1 which is essentially a parliamentary and quasi-federal program, much less able to resist centrifugal ethnic pulls from Tamil separatism and the neighboring South Indian state of Tamil Nadu, and withstand external stress. Sri Lanka seems to be in transition to a State form and model that is significantly less able to safeguard national sovereignty, independence, unity and territorial integrity. The US may possibly be pleased to assist in transition to such a looser, weaker State.
The new Cabinet is overwhelmingly a United National Celebration cabinet. The UNP under the leadership of Prime Minister Ranil Wickremesinghe is officially a member of the International Democratic Union (IDU) which is a collection of rightwing parties headed by the US Republicans and the UK Conservatives. As such the UNP government is far more probably to be oriented towards a prospective US-India axis. The Foreign Minister appears to represent the view of the UNP dominated government, rather than of President Sirisena who is the new leader of the centrist-nationalist Sri Lanka Freedom Celebration (SLFP).
While it will be in Sri Lanka's national interest that the Sri Lanka Freedom Celebration (SLFP) wins the upcoming parliamentary election and re-balances the country's political equation, it is unlikely at the moment. This is simply because there is ideological and political confusion in the ranks of the SLFP. Correct now, the UNP has been offered the advantage by President Sirisena due to the fact he has appointed the UNP leader as Prime Minister and a predominantly UNP Cabinet, in spite of the truth that the UNP has not won an election nor has the assistance of a majority in parliament. It is ironic due to the fact President Sirisena is the new leader of the SLFP. But he has conferred an unfair advantage on the rival UNP by empowering it. He and former President Chandrika Bandaranaike Kumaratunga have further confused the SLFP by collaborating with the UNP and attacking ex-President Mahinda Rajapaksa who won the majority of the Sinhala majority at the current elections, though he lost in the island as a entire. Mr. Rajapaksa won 58% of the 75% of the population who take place to be Sinhalese. The SLFP wants Mr. Rajapaksa's recognition to win the upcoming election but the new SLFP leader appears determined to attack him politically. In this deliberate confusion, it is likely that the UNP will win. The only factor that could adjust that scenario is if ex-President Rajapaksa tends to make a political comeback at the parliamentary election by means of the SLFP or an successful new nationalist formation. If the SLFP wins, specially with a Rajapaksa element, then the foreign policy of the SLFP will be closer to that of the Rajapaksa years, though there would be greater balance in between China, India and the USA, and particularly amongst China and India. Nonetheless, if the UNP wins, foreign policy will continue its present shift sharply towards the US, the West and a Washington-Delhi axis.
India can play a very constructive part in the financial, political and diplomatic arenas. Just lately the elected semi-autonomous Northern Provincial Council of Sri Lanka's Tamil majority location passed a Resolution with the outrageous and aggressive allegation that successive Sri Lankan Governments because Independence in 1948, committed "genocide" against the Tamil neighborhood. India can help Sri Lanka's rehabilitation approach by assisting oppose trends towards political and ethnic radicalization and polarization. It can do so by creating it very clear to Sri Lanka's and South India's Tamil politicians that Delhi strongly opposes such a Resolution and will not countenance such anti-Sri Lankan and potentially separatist postures on the part of the Tamil politicians. India can also assure Sri Lanka of assistance for the island's sovereignty in any work to counter moves by the UN Higher Commissioner for Human Rights to move forward with an inquiry into Sri Lanka's successful war against separatist terrorism in 2009.
Problems of a tactical nature between India and Sri Lanka, such as the problems of illegal fishing and Tamil refugees, can be dealt with jointly. What may prove a lot more problematic are two strategic concerns, namely India's concerns about Sri Lanka-China equation and Sri Lanka's political handling of its Tamil Query.