By P.Bertie Ranaweerage – 
All good hearted men and women had been longing to see an emergence of a powerful widespread candidate acceptable to all the ethnic groups who can defeat the incumbent President at the next Presidential election. It is tragic that all their hopes are fading away since of Mr. Ranil Wicramasinghe's desire to sit in President's chair. The UNP has unofficially confirmed that Ranil would contest the next Presidential election.
The UNP was boasting several a time that it was prepared to face any election at any time. But as we are aware it miserably failed at every election held in the course of the final handful of years. The only occasion they were in a position to win was the Badulla district largely thanks to the sky rocketing cost of living. My conclusion is the unbearable cost of rice produced people to vote for the UNP. It is true that Harin Fernando's charisma produced a distinction but the price tag of rice was the decisive aspect.
Although Mr. Harin Fernando was able to translate voters' anger into UNP votes due to his hard operate and charismatic leadersahip now the million dollar question is will Ranil be able to do at the Presidential election what Harin managed to do in Badulla.
If we meticulously look at what Mahinda did and Ranil did or what the SLFP did and theUNP did during the last week or so it is not challenging to guess who is going to win in the propaganda campaign in the coming weeks if not in the coming couple of months.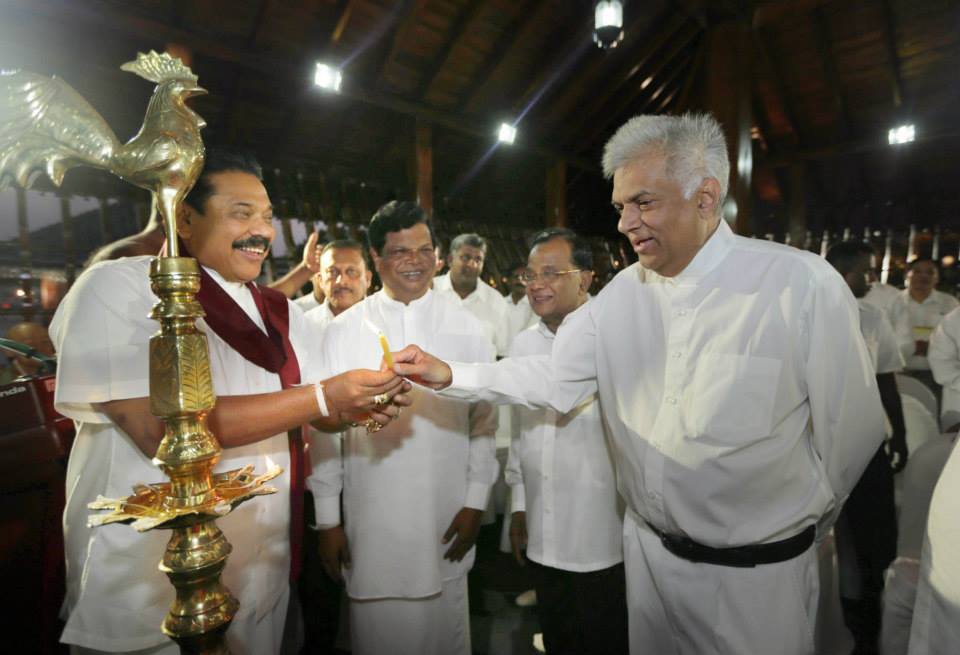 Mahinda started his campaign in earnest by going to Jaffna and giving land deeds and gold to the Tamils. As he did in the course of the last Presidential elections he has begun to summon state workers to the Temple Trees. He talked to the workers of the Well being sector in the morning and in the afternoon he held a meeting for the personnel of the Agriculture sector last week. As he knows the path to the thoughts lies by way of the stomach he in no way hesitates to treat these who are invited to the temple Trees with meals with each other with propaganda material. Now don't ask me whether he spends his personal cash or your tax money to fill the invitees' stomachs in order to pocket their votes.
Even though government owned electronic media and print media are carrying on an incessant anti Ranil vicious campaign Mahinda supporters have launched an island wide mud slinging poster campaign against Ranil possibly throughout the nation. In the meantime we can see complete web page advertisements heaping praise on Mahinda in the newspapers everyday.
Twenty four stages of which some are as wide as fifty metres and stands for big Tv screens had been being constructed at a facility of Sri Lanka Ports Authority by its personnel when some UNP MPs created an unannounced pay a visit to to that facility according to one of the MPs who joined the' raid'.
Yesterday the JVP stated that all the printing shops in Colombo have been given orders to print election related material of Mahinda and as a outcome they have refused to accept orders from other folks.
In the meantime what has the UNP or Ranil been doing? At a small gathering  this week, someplace in Colombo Ranil announced some election promises that he would do when he came to energy. Following that we heard that all of a sudden he flew to Singapore. There was one more news from the UNP that its Committee of Twenty gathered for the third time. And of course there were a handful of press conferences summoned by the UNP also.
Is this the way the UNP is going to fight mighty Mahinda?
If we go back to the pre-election period in 1994 we can recall that dozens of anti-government tabloids and news letters were  published weekly and they were very common amongst the people. They played a major part to tilt the balance in Chandrika's  favour.
One more instance the UNP utilized posters in its favour was the pre-presidential period in 1988. Notwithstanding the threat of the JVP, Mr. R. Premadasa sent men and women from Colombo to every single nook and corner of the country to paste his poster 'ME KAUDA ? MOKADA KARANNE' ( Who is this ? What is he undertaking? ) Premadas possibly hoped to go on a second round of poster campaign with his name, intention and picture but he had to limit it to newspaper ads due to attainable threats from armed JVPers to Premadasa's males.
In the course of the 1977 pre-election period tens of thousands of posters with cartoons on Bandaranaike family bandyism were pasted across the country which produced a massive effect in shifting the public opinion against the SLFP.
Today's UNP is a far cry from the JR's UNP and Premadasa's UNP. One particular of the reasons is able UNPers are now in Mahinda's cabinet.
Ranil's  UNP has failed to paste even a single poster on an island –wide scale so for announcing its candidate or condemning Rajapaksa household bandyism.
Has it been able to publish even a single anti-government tabloid so far? It appears it has failed even to publish their official organ 'Siyarata' as far as I know. Even though it has a media unit, it has done little to spread its message to the public
Whilst Mahinda has launched a propaganda blitzkrieg in preparation of the election  Ranil's propaganda campaign, if there is one, is absolutely nothing but a snailkreig.
If the UNP hopes to beat Mahinda it has to launch an earth shattering propaganda campaign to start with. It is true that a  powerful campaign alone can not beat the opponent but a propaganda campaign that reverberates in each and every house in the country, a campaign that stuns the opponents goes a long way.
It is better for Ranil, for the UNP and for the nation if Ranil abstains from contesting and support a candidate with a greater personality who has a mass appeal as the frequent candidate at the forthcoming Presidential election for it is not straightforward to defeat Mahinda as he nevertheless enjoys the support of the majority of the Sinhalese. And do not forget that Thondaman has promised his help to Mahinda which means a great number of upcountry Tamils will vote for the incumbent President. In case Ranil contests and loses it will be the end of Ranil's political life.