By Chaminda Weerawardhana &#8211
As the Sri Lankan common election approaches, there is an work amongst pro-UNP media to raise an intriguing argument. This argument goes as follows: Voting the JVP is completely unadvisable, since JVP MPs will side with Mahinda Rajapaksa, when the UNP-led government moves towards 'reforms', specifically with regards to the ethnic question. Articles of this nature, published in outlets such as Lanka E News, very first appear in Sinhala, and then in English. In the Sinhala articles, the term 'balaya bedeema' is employed, when referring to the measures that a UNP-led government will supposedly take, in addressing Sri Lanka's ethnic question. Civil society activists in Colombo's English-speaking, West-oriented non-governmental lobby, who rely on funding from Western sources for their projects, have lengthy advocated the term 'balaya bedeema' in their Sinhala language documents, media engagements and public events. This was also the preferred wording of Chandrika Bandaranaike, who held the executive presidency from 1994 to 2005, and engaged in repeated efforts to bring about political reforms to the ethnic question. Back in 1993-1994 and in the course of her initial couple of years in workplace, the term 'balaya bedeema' was frequently employed when referring to a set of political reforms that would help address the political grievances of the Tamil community. When programmes for awareness raising and mass mobilisation, such as sudu nelum and thavalama were launched, the Sinhala documentation explaining the rationale for such initiatives also included the term 'balaya bedeema'.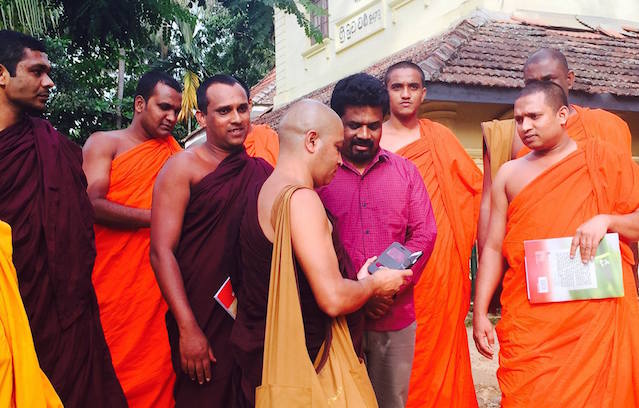 In what follows, this writer argues that the above-mentioned anti-JVP position of pro-UNP media is all but a hollow and desperate bid to woo swing voters. By castigating the JVP as prone to take the side of Mahinda Rajapaksa and Sinhala nationalists in the face of 'progressive' balaya bedeema reforms, the pro-UNP media demonstrates that they either a) have no clue of the political evolution of the JVP and the party's present-day scenario, or b) they are totally aware of the JVP's rising reputation and present-day position on the ethnic query, and are consequently desperate to engage in final-minute fear-mongering. In order to get to the bottom of this argument, it is needed to take a minor detour, recapitulating the regional and international implications of the problem of political reform.
Political Reform: international ramifications?
Six months into the presidential election of January 2015, it is clear that external powers, specially the India-USA-EU consensus, played a part in the political developments that facilitated the political changes of early 2015. Such developments involved Ranil Wickremesinghe, the leader of a political party given that 1994, with a strong track record of being 'unmarketable' at elections, taking a back seat. By means of the mediation of Chandrika Bandaranaike – who, just like Wickremesinghe, is a trusted 'friend' of the West – a a lot a lot more locally marketable 'man of the people', Maitripala Sirisena, was selected to contest for presidency on behalf of a common front, headed behind the scenes by the Wickremesinghe-Bandaranaike duo.
One particular of the crucial factors that led Delhi to endorse a procedure of regime change in Sri Lanka was the Mahinda Rajapaksa government's reluctance to fulfil a pre-May 2009 guarantee to Delhi- that of implementing political reforms that would address the fundamental demands of the Tamil polity (read the Tamil leadership represented by the Tamil National Alliance), which Delhi could eventually market in Tamil Nadu to appease the province's Tamil nationalist sentiments, and to enhance Delhi's profile in Tamil Nadu as devoted to the cause of the Tamils of Sri Lanka. The failure of this plan was at the heart of strained relations in between Delhi and Colombo. Some media reports referred to an angry President Rajapaksa returning from Delhi soon after attending Narendra Modi's swearing in ceremony, the cause for presidential anguish becoming Modi's reiteration of Delhi's demand for political reforms in Sri Lanka. Irrespective of the truism of this claim, it is clear that Delhi was, and continues to be, deeply interested in witnessing some kind of 'political reform' taking spot in Sri Lanka vis-à-vis the ethnic query. It goes with out saying that Delhi's position influences perspectives on Sri Lanka in Brussels and Washington D.C.
The report on Norwegian engagement in the Vth Peace Process, produced by the Christian Michelsen Institute in Norway, reveals, Ranil Wickremesinghe's zest to implement marketplace reforms raised concern even among Western diplomats. Below a Ranil Wickremesinghe-led government right after #gesl2015, there is a likelihood that Colombo would be receptive to the Delhi-led get in touch with for political reform, and get itself involved with a balaya bedeema discourse with the TNA.
A convoluted topic: parameters and public perceptions of political reform in Sri Lanka
In implementing political reforms with regards to the ethnic query, 1 can notice similitudes in the challenges that successive governments have faced. Throughout the heyday of the LTTE, attempts at negotiation, mediation, external facilitation, confidence-building measures, and discussions on comprehensive devolution and quasi-federal reform have been all perceived with scepticism in the Sinhala nationalist lobbies. The explanation for that scepticism, from the Chandrika Bandaranaike proposals for a draft constitution to the Wickremesinghe-led, Oslo-facilitated Vth peace procedure and the aborted P-TOMs initiative, have been the exact same they have been all deemed as measures that would 'divide' the 'country'. The Sinhalese appellation 'rata bedana salasum' was tagged onto all the aforementioned reform initiatives. Political opportunism put aside, a substantial segment of the polity and Sinhalese society perceive substantial devolution and quasi-federal reforms as inimical to the interests of the Sri Lankan state. If a government, on the basis of a parliamentary majority, international help or the strength of an influential leader, seeks to 'force in' such reforms in the absence of public support, that government and its leader are prone to face a political crisis and a challenge to its energy base, paving the path for wider protest and unrest.
Managing the Reform Challenge?
When considering political reforms, any future government requirements to take previous precedents strongly into account. Secondly, and most importantly maybe, it is important to take stock of public attitudes to political reform. A vital question pertains to the domestic and international actors who are demanding political reforms. At residence, the TNA is quite keen to receive a set of reforms from Colombo, which it can then market to its northern electorate, and reinforce its energy base for posterity. Delhi's keenness on political reforms was evoked earlier in this article.
At this point, it is of value to highlight a critical factor. It is not this writer's objective to adopt a Sinhala nationalist stance and maintain that political reforms are unwarranted. This has been, for instance the position of the Jathika Hela Urumaya. This writer strongly believes that political reform, inspired by a context-distinct amalgamation of components from consociational energy-sharing models and integrationist perspectives of political reform, would be really appropriate and valuable in enhancing the current structures of governance (i.e. the Northern Provincial Council, municipalities and pradeshiya sabas).
However, this understanding of the suitability and worth of political reform does not blind this writer to a essential reality – that of the sensible feasibility of implementing political reform in a context of asymmetric energy, in between an ethno-national majority and numerical minorities. On top of that, the Sri Lankan polity is marked by repetitive situations when political reform projects failed due to varying types of majoritarian opposition, from the BC Pact of 1957 to the P-TOMS proposals of 2005.
Provided this reality, if a programme of political reform is to be effectively negotiated, agreed upon, ratified in parliament and implemented in full, there is an earlier preliminary step to be dealt with – that of developing broad-ranging consensus on the necessity and usefulness of such reforms in managing minority rights and ethnic relations. The collective failure of all past leaders who attempted political reform lay in an inadequate appraisal of this preliminary necessity. Taking past precedents and the present-day political configuration into account, it can be noted with certitude that Sri Lanka has not however entered the phase of implementing devolution or federalism-based political reform. If this reality is ignored and reforms are to be introduced directly, it amounts to placing the cart before the horse and abject pointlessness.
The real problems at hand?
How, then can a future government seek to reconcile this predicament, and adopt a workable strategy?
As a first step, a future government need to imperatively recognise the reality that the Tamil folks of northern Sri Lanka are concerned with priorities that go beyond political reforms, which neither the TNA nor any other Tamil political parties are keen to prioritise. An incomplete list of concerns, which the subsequent government imperatively ought to contemplate as absolute priorities, incorporate the following:
The full implementation of the national language policy (specifically in predominantly Tamil regions),
Developing a medium and long-term programme of help to war widows, single-parent (specifically single mother) households
A national programme for the welfare of orphaned young children and young adults
A plan of action to address drug proliferation, alcoholism and gender-primarily based violence
A robust initiative to make certain gender justice, with quick, medium and lengthy-term goals
Measures to address the situation of caste-primarily based discrimination in all elements of life
Guaranteeing an equitable policy of land distribution, returning acquired land to their rightful owners
Making sure fundamental human freedoms, which includes the appropriate for political engagement, of upholding political views of one's option
Making sure, and totally guaranteeing the appropriate of Tamil people to commemorate war victims, which includes fallen LTTE combatants, who, soon after all, happened to be disgruntled citizens of Sri Lanka
A transparent national mechanism to examine wartime disappearances, deaths and acts of violence
Social reform instead of political reform?
The most advisable technique for a future government to adopt is to take a social reform strategy, which focuses not on the Tamil polity, but on reforms ensuring social justice for Tamil folks. Creating a national program of action to address the above-talked about and associated troubles, with the participation of a broad variety of civil society activists, victims' assistance groups, religious leaders, academics and researchers, advocates of reconciliation and human rights activists is an absolute national priority. It is also a step with a lesser danger of a Sinhala nationalist backlash.
Instead of such a programme that focuses on people and society, the next government could repeat the past error of focusing exclusively on political reform, in a dance to Delhi's existing tune. If this path is pursued, previous precedents indicate the inevitability of a political crisis. A programme of this nature is bound to strengthen the Sinhala nationalist lobby, which could mobilise around Mahinda Rajapaksa. It would be a birthday present to Bodu Bala Sena, Ravana Balaya and all other Sinhala nationalist entities.
The JVP: a strategic reaction is completely regular
Provided the absence of public assistance to a UNP-led internationally influenced project for political reform involving the TNA, its connotations of getting a concoction of pro-Western politicians and the of western-funded NGOs, the JVP, a national-level political movement that stands for ethno-national harmony inside a united Sri Lankan state, can not be anticipated to endorse such a reform drive. The JVP cannot be blamed for a choice of this nature, as the fundamental priority of any political movement is that of making sure its important support base and enhancing its electability.
Requesting the electorate to not to vote for the JVP, due to the probability that the JVP will oppose political reforms – a favourite pastime of pro-UNP media – is puerile at greatest. Let's contemplate, for example, the (unlikely) hypothesis that the JVP does not carry out effectively at the basic election and is not represented in parliament. Even in the JVP's absence from the legislature, a Sinhala nationalist backlash against Delhi-Ranil Wickremesinghe-TNA political reforms is inevitable. That backlash, if past examples are something to go by, will take place within the legislature as nicely as on the streets, spearheaded not by the JVP, but by an assortment of Sinhala nationalist hardliners who have MR to rally around.
The advisable course of action?
It is in the UNP's ideal interests to bring this problem up with its Indian and Western allies, and reach an understanding on the substantive political dangers of pursuing the path of satisfying the demands of constitutional Tamil nationalism, represented mostly by the TNA. Beyond a set of cosmetic political reforms that it can marketplace in the North, the TNA harbours no interest in the day-to-day problems affecting the Tamil folks and specially the class and caste dimensions of such difficulties. The West is engulfed by the perception that the TNA is the main Tamil political entity, commanding the biggest support base. The TNA wins elections with relative ease in the North due to a fundamental cause: there exists no viable and credible option to the TNA in the predominantly Tamil electoral districts of northern Sri Lanka. It will be in the very best interests of a future UNP government (and certainly its Indian and Western backers) to proceed on a social reform agenda, and also take concerted methods to open a lot more space for political participation, and assist build option political voices that challenge the TNA's electoral monopoly.
The present-day TNA is all but a Vellalar gentlemen's' Club, an unwelcome space for these from other castes and for rehabilitated ex-LTTE combatants, and for the most vulnerable segments of society. In this context, it is an absolute necessity in terms of basic democratic politics to aid create credible, totally democratic, non-violent and inclusive political alternatives to the TNA in northern Sri Lanka. A procedure of that nature would also give a valuable basis to launch a conversation on topics such as devolution of powers and institution creating. International observers want to take adequate stock of this reality.
Delhi, Washington D.C. et al: set your priorities straight!
Unless Delhi and the West wishes a future return of the Rajapaksa regime, it is in their very best interests to assistance a social justice-based reform agenda in northern Sri Lanka, which also involves an effort to strengthen democratic politics, diversifying political representation and enhancing inclusivity. Instead, adumbrating a commitment to practically non-feasible and politically risky political reform is verified hara-kiri and a enjoy letter to hardline Sinhala nationalism. As the pro-UNP media does, singling out a political party striving to emerge as a decisive force in national politics fit to be the official opposition and/or to assume governmental workplace, amounts to all but petty fear-mongering and a increasing fear of the JVP's recognition.