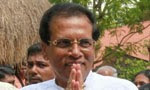 In a significant reconciliatory move, President Mathripala Sirisena will be sending a circular to all institutions saying that there is no bar on singing the Lankan national anthem in Tamil.
He will thus be lifting an unofficial ban current since 2010, when President Mahinda Rajapaksa let it be known that government will frown on singing the anthem in Tamil. Schools and other institutions, which have been utilizing the Tamil version of &#8220Sri Lanka Matha, Apa Sri Lanka&#8221 because 1951, stopped performing so.
Sirisena announced his choice to lift the language bar when the leader of the Democratic Peoples&#8217 Front (DPF), Mano Ganeshan, raised the issue at the National Executive Council (NEC) meeting on Tuesday.
&#8220The President stated that he would send a circular saying that there is no ban on singing the national anthem in Tamil. He also stated that he would have the matter cleared by the National Security Council,&#8221 Ganeshan has told the New Indian Express.
It was in 1951 that newly independent Lanka adopted Shantiniketan-educated Ananda Samarakoon&#8217s Sinhalese-language song &#8220Sri Lanka Matha, Apa Sri Lanka&#8221 as the national anthem. Simultaneously, a Tamil version, &#8220Sri Lanka Thaaye Nam Sri Lanka&#8221, composed by the Lankan Tamil poet, M.Nallathambi, was also adopted. For decades, both versions have been sung, even though only the Sinhalese version had constitutional sanction.
But the victory of the Lankan armed forces over the Tamil Tigers in 2009, resulted in Sinhalese-nationalist parties like the National Freedom Front (NFF) and the Jathika Hela Urumaya (JHU) demanding a ban on the Tamil version on the ground that nations sanction use of only 1 language for singing the national anthem.
On December 12, 2010, Home Minister W.D.John Senewiratne introduced a cabinet paper to officially disallow singing the anthem in Tamil. President Rajapaksa, who headed the cabinet, did not officially commit himself to Senewiratne&#8217s proposal, but word went around that his government did not favor the use of the Tamil version. In the Tamil regions, the Security Forces insisted on the use of the Sinhalese version only. The Tamils&#8217 argument that in several nations, which includes Canada and South Africa, the anthem is sung in various languages fell on deaf ears.
Supply