By Laksiri Fernando –
It seems that the Defence Secretary, Gotabaya Rajapaksa, is openly taking inspiration from 'terrorism.' He at least defends his actions on the basis of terrorists. According to the lead story of 'The Island' newspaper yesterday (15 December 2014), reported by Shamindra Fernando, he has stated, "If terrorists can enter politics, why not forces personnel?"  
This is a dangerous trend. If the same logic is extended to human rights violations or war crimes, he can argue, 'If terrorists can do such and such issues, why not forces personnel?" The citizens of Sri Lanka (such as myself) would like to know whether or not this is just an argument or whether this is the way he has been acting and intends to act.
He has employed the terrorist title for the LTTE (rightly so), and for the JVP (correct for the past), and claimed the same entitlements for the armed forces personnel. I do hope that the professional soldiers and their officers/commanders completely disengage and distance themselves from this sort of thinking and stick to their 'code of discipline' totally free from partisan politics.
It was like cat out of the bag. The occasion for this revelation, as reported by 'The Island,' was as follows.
"The Maithripa la Sirisena's Camp yesterday told the media that Defence Secretary Rajapaksa was utilizing Urban Improvement Authority (UDA) in President Rajapaksa's campaign. Addressing the media, Opposition spokesman attorney-at-law Shiral Lakthilaka alleged that the UDA was operating digital screens in Colombo 24 hours a day to promote President Rajapaksa. Lakthilaka stated that the Opposition had a list of serving military personnel campaigning for the incumbent president."
Not Denied
Let me take the most significant matter 1st, with my emphasis in the above quote. Defence Secretary has not denied the accusation that "serving military personnel campaigning for the incumbent president." What he has mentioned is the following.
"The vast majority of military would help the government simply because whatever the allegations, no one particular could deprive President Rajapaksa of giving political leadership to the effective war effort."
Of course he has not admitted the accusation straight either. What he has clearly admitted is the use of "retired military personnel in President Mahinda Rajapaksa's campaign," according to the report. He has defended that 'use,' citing the example of Sarath Fonseka.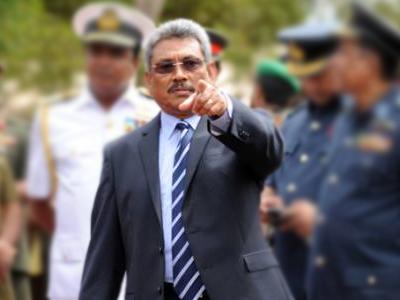 Even so he has gone some distance to prove that Fonseka entered politics whilst he was in workplace which clearly gives the indication that he most almost certainly using serving officers or the military for the election campaign. Two examples that he has given are the resignation letter of Fonseka as the Chief of Defence Staff (CDS) to the President, and his consultation with the JVP in late 2009 when he was in the US, nevertheless holding the CDS position.
I was 1 (among other individuals) who criticised Sarath Fonseka's entry into politics at that juncture as a wrong precedence and also as a major military danger. That was 1 explanation why I supported Mahinda Rajapaksa at that election. Even so, 1 wrong does not make one more wrong (in this case a larger a single) excusable. Similarly, I have also criticised the retired judges getting into into politics, whatever the causes. There is no doubt that those who supported or promoted Fonseka at that election was imprudent whatever the discrimination or harassment that he had undergone beneath Rajapaksas. It is not private hatred or judgements that must govern our positions, but great governance and democratic principles.
Present Dangers
It is on record that many retired military and police officers have entered active politics. If it is just one or two, that could be ignored. Even so, when there is a trend or a horde, then that is alarming. If folks enter into politics from sectors exactly where independence is needed, then these persons' independence for the duration of the service become questionable.
I bear in mind an ASP's name allegedly implicated in repression in Jaffna in early 1981 when I visited there on a reality finding mission. Then he became a DIG and later entered politics.
Politicization of the armed forces (or police) is one particular of the key dangers of any society. That cannot be excused by referring to terrorism or taking the example of terrorism. Civilized globe anticipate various norms and behaviour from security forces to that of terrorists. The argument that "If terrorists can enter politics, why not forces personnel?" is undoubtedly a strange and an abhorrent argument. All professional soldiers and the officers need to reject the equation of the armed forces to terrorists.
It is very clear that the Defence Secretary is using (some) forces personnel for his brother's election campaign. He is also performing this as a 'civil servant' and as a Secretary of a Ministry. This is a extremely clear violation of election laws and 'free and fair elections.' One particular proof of this violation is his utterances themselves and the press interview that he has offered to 'The Island.' He has currently admitted the violation.
For the opposition accusation that "Defence Secretary Rajapaksa was using Urban Development Authority (UDA) in President Rajapaksa's campaign" and "operating digital screens in Colombo 24 hours a day to market President Rajapaksa," he has admitted the use of the screens but has stated "those ads didn't carry images of him or the President."
The problem in Sri Lanka below the Executive Presidential Constitution is that not only the President is immune (with impunity) of any wrong performing, but his brothers also think and claim that they have immunity with impunity.