By M.K. Eelaventhan –
Maithiri's considerably publicized vote catching 100 days promised actions commencing from January eight began with a whimsy and has ended with a whimper, considerably to the disappointment of all Sri Lankans. Nevertheless, some actions have been taken and/or initiated and the noteworthy step is the introduction of the 19th amendment. Reviving the independent police judicial and public service commissions and lowering the powers of president without having abolishing it as promised and demanded by some political parties. This bill is likely to reach the statute book. The other notable alterations are:
The reduction of fear psychosis from government sponsored criminals and ruling politicians
The fresh air of press freedom in the south although the north is nonetheless a haunting area for the Tamil journalists
Avoiding diplomatic and state appointments based on political favouritism and nepotism
Curtailing China's hold on Sri Lanka whilst forging much more friendly relationships with India and U.S
So far there are no indicators of any abuse or misuse of energy by Maithiri and also any dictatorial attitude. Maithiri has also not shown any lust or styles to cling onto the position of Executive President
Maithiri is nonetheless lacking the dominant spirit and move like a President with decisive step
The Maithiri-Ranil brittle and uneasy union is meandering and plodding to fulfill the promises and meet the aspirations of all Sri Lankans. Firstly, the disgusting pampering of the past regime's corrupt officials, ministers, and such as the self-produced king of corruption, the former president Mahinda Rajapaksa is still continuing. Maithiripala Sirisena promised to close the airports to quit the fleeing of the corrupt like criminals. This promise is dead and no one knows the names of those who fled to stay away from the extended arm of the laws in Sri Lanka.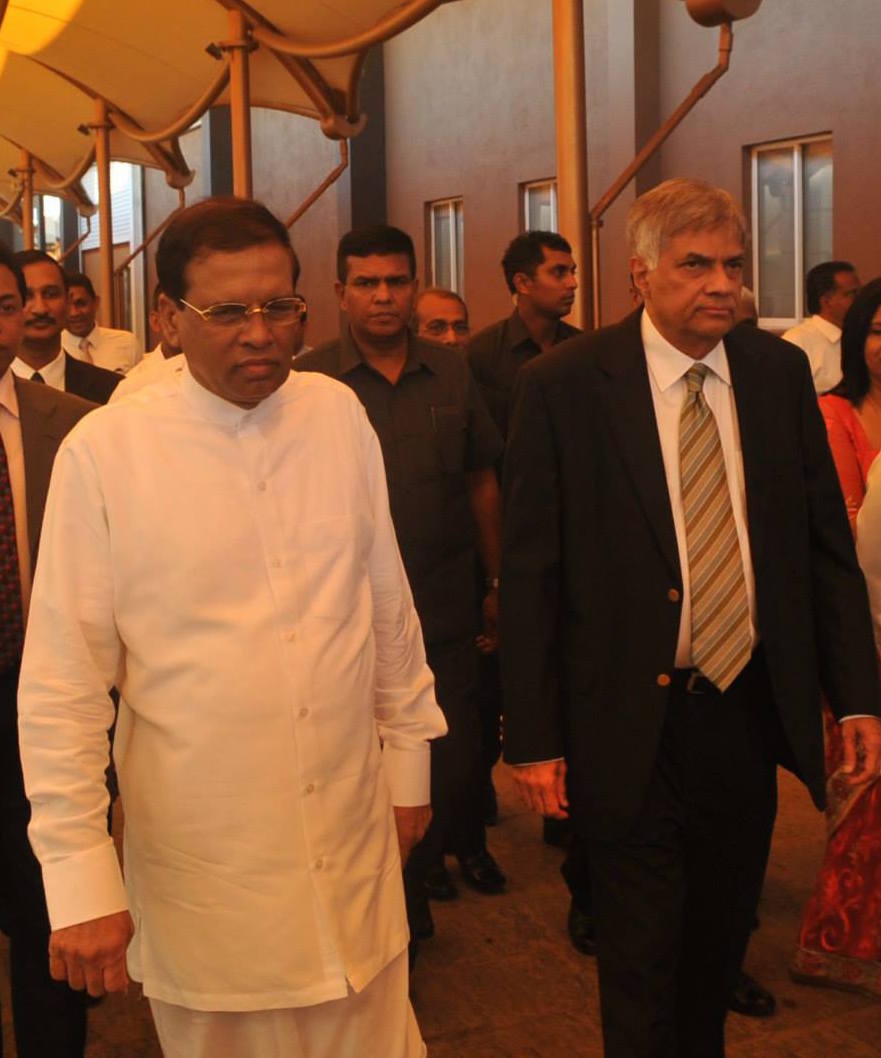 Secondly, some investigations have been initiated against the members of the Rajapaksa dynasty for their involvements in bribery, tamashas, frolics, misuse and abuse of state machinery, sexual trysts in houses and airlines. The media is exposing the disgusting details of numerous disgraceful episodes, but there is inexplicable slowness and reluctance to bring them to face the crimes and culpability upholding the rule of law, although the arrest of Basil Rajapaksa is a bold step and it is hoped that this will be followed by a lot of a lot more arrests which includes the defiant Mahinda. Ranil Wickremesinghe for his component has blocked the arrest of Gothabaya Rajapaksa, as a result freeing from a lot more grilling investigation. This lawless step of Ranil is just the writing on the wall and a single can be rest assured that the Rajapaksa dynasty could be leniently dealt with although giving a body blow to good governance in Sri Lanka. It appears like Maithiri is haunted by the menacing spectre of Mahinda like a phoenix bird.
There are indicators of this uneasy coalition of two major rival partires of Sri Lanka breaking up as elections close to. Maithiri's soft method and attitude is a cannon fodder to Ranil who is exploting it to the hilt to strengthen his party while engineering divisions inside the currently fragmented Sri Lanka Freedom Party. Ranil is also playing his usual game of "divide and rule" policy towards TNA. His very first move seems to have succeeded, with his indecent outbursts directed at C. V. Wigneswaran calling him a "Liar and not worth speaking to him", at the exact same time nursing a friendly relationship with R. Sampanthan. Ranil has certainly forgotten the truth that 'Wigneswaran', was elected by the folks to run the Northern Provincial Council, whilst Ranil usurped the position of Prime Minister illegally and unelected with the assistance of a mere 45 UNP members, in violation of parliamentary democracy.
Ranil is also trying to produce a parallel administration in the north aiming to destabilize the northern provincial council's administration with styles to isolate and weaken the well-liked Wigneswaran.
The most glaring neglect and inaction or no-action of Maithiri includes the sixty years old Tamils' problems.
Maithiri is ominously silent on this matter and so far no proposals of settlement, not even any expression of determination has been created by Maithiri. Ranil on his pact as usual harps on national unity co-operation, while focusing his efforts to strengthen his party in the north with elections in thoughts. The handing more than of 470 acres of army seized lands out of 6030 acres in the Vadamaratchi is just the tip of the iceberg to paint a picture of reconciliation and hoodwink the globe neighborhood.
The safety forces entrenched in the north are continuing their presence which is now declared permanent by Maithiri's government. Displaced Tamils continue to reside in camps as refugees and adequate compensatory measures have not however been effected. Maithiri has appointed however one more commission to deal with truth and reconciliation. The earlier LLRC report and some of its constructive and useful recommendations have been laid to rest. There is practically nothing new for the new commission to search, investigate and advise. The truths are there for the whole planet to see and know. They are merely militarization, Sinhalisation, Buddhisisation, genocide, racial discrimination and crimes against Tamil females and kids more soon after the war.
Maithiri and Ranil have also vowed not to accept any international investigation into the roles of Sri Lankan government, state officials, and security forces. The proposed internal investigation will commence and end up with covering of perpetrators who executed the crimes lest Maithiri runs the threat of dethroning by Mahinda who is waiting in the wings to pounce on Maithiri and Ranil at the opportune time. The grim truth is that the difficulties of Tamils as usual will be kept dormant partly aided by a sleepy and inactive TNA as the priorities of Sinhala political parties are solely winning Sinhala votes and capture political power and for this goal Tamils will be exploited in what ever way possible leaving them to pursue their life of misery, sufferings, degradation and final decimation in their classic homelands.
Mahinda has to some extent succeeded in weakening the difficult posture of USA towards Sri Lanka, by relegating China's dominance in Sri Lanka. For USA and some countries, Tamils are like curry leaves ' Use and then discard'.
Maithiri and Ranil business are channeling their energy and efforts to paralyse the impending UN commission's report and make it sterile. It will not be a surprise some more commissions could be appointed targeting to resolve the grievances of Tamils although their suggestions are consigned to archives.
The current highly charged political atmosphere is testing Maithiri's power, concentration and abilities to defeat the plots hatched by Mahinda gang who are channeling all their efforts to dethrone Maithiri and Ranil whilst paying scant respect to the rule of law by employing political thugs to avoid and disgrace the administration of justice to the political criminals. Maithiri is warned not to permit the Mahinda clan to recommence their autocratic rule by perverting the democratic program and ideals and turning Sri Lanka into a police state.
As for the Tamils and TNA, no light is observed at the finish of the tunnel and any hope of a dignified political settlement from Maithiri or Mahinda is as good as dead. It is higher time for Sampanthan and company to face the realities and ground situation and appear for new directions, concepts and moves to launch fresh campaign and agitations for a remedy with the help of the international community.
A disunited TNA only worsens the causes of Tamils and it seems that M. A. Sumanthiran is much more worried and concerned about the resurrection of the Tigers than the Sri Lankan government and other international community.
It is better late than in no way for the TNA to act in unison with 1 voice and note living on hopes, promises and tiger fantasies.
The 100 days programme discarded the cancerous ethnic difficulty and therefore treating the TNA and Tamils as irrelevant in their political agenda, and relegating it as a matter of less or no importance.
Whilst Sampanthan is chasing a mirage with hopes of settlement, Tamils feel isolated and desolate with no hopes without having a dynamic and bold leadership at this crucial period.
*M.K. Eelaventhan &#8211 Former Member of Parliament Sri Lanka &amp Member of Transnational Government of Tamil Eelam Representing Canada