President Maithripala Sirisena with his major adversary Mahinda Rajapaksa at his side today called for the Sri Lanka Freedom Party to unite.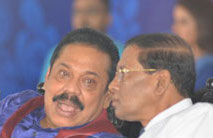 He was speaking at a meeting held to celebrate the 64th Anniversary of the SLFP in Polonnaruwa these days.
Nonetheless a extended standing SLFP MP stated that it was the power struggle among both Sirisena and Rajapaksa which divided the SLFP into two factions.
Sirisena went on to say that the SLFP ought to face the next polls as a united force.
Nevertheless, Chandrika Kuratunga who Rajapaksa has described as his greatest enemy was not on stage in Polonnaruwa.
The new General Secretary of the SLFP Duminda Dissanayake in his address stated that Bandaranaike could not attend the occasion as she had gone abroad.
Nevertheless, Sirisena was wary adequate not to grant a speech to Rajapaksa.
Though Rajapaksa was seated next to Sirisena the two did not engage in considerably speak.
Also the division within the SLFP was significantly evident at the meeting with both Sirisena and Rajapaksa factions choosing to band with each other with colleagues from the exact same side.