President Maithripala Sirisena will have to lead the Sri Lanka Freedom Party&#8217s campaign at the forthcoming polls to elect members to the local authorities, expected to take spot at the finish of the year, a SLFP source told Colombo Telegraph.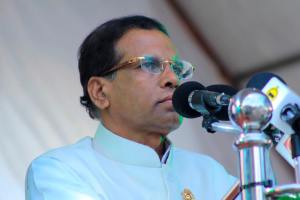 The above improvement comes in the wake of former President Mahinda Rajapaksa who led the UPFA campaign in a loosing battle against the UNP at the last general election deciding to hand over the reigns to Sirisena.
A supply close to Rajapaksa mentioned that he has already conveyed this decision to Sirisena. This comes in the backdrop of a number of moves initiated by Sirisena to consolidate his power inside the SLFP. However it is unclear which party Sirisena will lead, the SLFP or the coalition UPFA in which the SLFP is the key stakeholder. According to SLFP sources the party is most most likely to pull out of the UPFA shortly.
Already the SLFP is divided with a majority supporting the national government mooted by Wickremesinghe and Sirisena and other folks joining the remnants of the UPFA led by Wimal Weerawansa, Vasudeva Nanayakkara, Udaya Gammanpila, Kumara Welgama and Dinesh Gunawardena.
This UPFA remnant group is planning to be the main opposition in the new parliament which will sit for the very first time tomorrow.
Also they are planning to propose Kumara Welgama, the Kalutara district parliamentarian as the opposition leader.
Earlier in the day the President had told some UPFA leaders that the opposition will be permitted to appoint its own leader in parliament. Earlier the SLFP CC decided that President as the head of the party could take a decision as to who will be the opposition leader.
Meanwhile UNP MP Lakshman Kiriella told media that the powers of appointing the opposition leader were vested with the speaker.
Also the TNA has thrown its hat in to the ring claiming that the opposition leaders post ought to be theirs for the taking as the SLFP already has signed a MoU with the UNP to set up a national government.
Rajapaksa has conveyed to the UPFA remnants that he will sit as a back bencher for a brief period and resign from politics afterwards. However, according to a supply close to the former President, Rajapaksa could stay in parliament and bide his time if the new national government does fail to click as a robust unit.
Prior to the common election President Sirisena mentioned that the Local Government polls will be held soon after the parliamentary polls.
The regional bodies whose terms have been lapsed are currently being administered by unique commissioners in accordance with the Local Authority Act.
The government in March extended the official term of 234 local government bodies, which was due to expire by the 31st of March, until the 15th of Might. The terms of other remaining LG institutes are to expire in October.