By Tisaranee Gunasekara &#8211
"Did this ever happen?" &#8211 Homer (The Iliad)
It was the defining moment of a decisive election. Mahinda Rajapaksa tries to plunge into a crowd of supporters in Akuressa to hammer a man who grabbed his hand. The video shows a visibly angry Mr. Rajapaksa, his other hand balled into a fist, prepared to take on the perpetrator of lèse majesté.
Soon following the video went viral, some Rajapaksa acolytes tried to depict the incident as a dry run for a future assassination attempt. Had the alleged finger-puller been a real or suspected enemy, he would not have escaped unscathed from the crowd. He was unharmed because the rest of the audience recognised him as a kindred spirit.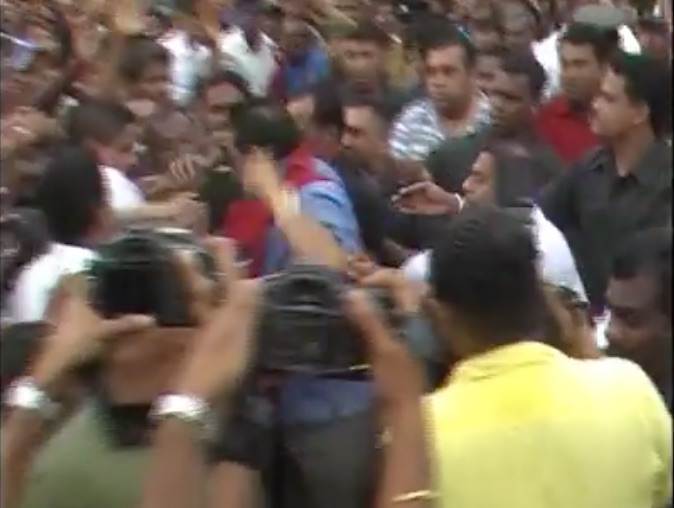 Mr. Rajapaksa stated that he felt fantastic pain ('tharu penuna' – I saw stars) when his finger was grabbed and there is no reason to doubt him. What is of relevance politically is his instinctive reaction to this injury. He did what anybody in a similar scenario would have accomplished, and attempted to pull his hand away. But his reaction did not cease there. He went a number of actions additional and did some thing most men and women, specifically these who are older and much more mature, would not have accomplished he raised his other hand threateningly and charged into the crowd to attack 'the attacker'. Had his safety guards and supporters not dragged him away, the country would have witnessed the distinctive spectacle of its ex-president hammering an unknown man, in public.
That instinctive reaction tells a lot about Mahinda Rajapaksa, man and politician. He is a fighter, which was a single purpose he could beat Vellupillai Pirapaharan at the latter's own game. He is, probably, a good decision for a nation at war, a country threatened by external or internal enemies. He is absolutely not a wise decision for a nation which is recovering from a extended and debilitating war, a country which is faced with the process of building a consensual peace. As Mr. Rajapaksa's instinctive reaction to a perceived injury demonstrates, he is a man who sees threats and enemies exactly where there are none, a man who is prone to thoughtlessly violent options. That is precisely what this country does not need to have, at this historical moment.
Gratitude was theme of Mr. Rajapaksa's 2010 presidential election campaign. An absolute majority of the electorate accepted that logic and voted him in. But Mr. Rajapaksa was a wartime leader and as such he was incapable of understanding, let alone handling, peacetime demands. He not only failed to implement political and socio-financial measures aimed at winning over the alienated Tamils. He implemented measures which infinitely exacerbated their alienation. Some measures had been strategic and sourced in his own project of familial rule and dynastic succession such as garrisoning the North. Some have been motivated by ideology, such as denying the existence of an ethnic difficulty and as a result the require for a political remedy. But really a couple of had been like his Akuressa behaviour, angry and vengeful reactions to a genuine or perceived injury. An outstanding case-in-point was banning the singing of the national anthem in Tamil this move was a reaction to the cancellation of Mr. Rajapaksa's second Oxford Union Speech due to protests by Tamil Diaspora groups.
But perhaps the most deadly legacy of Mr. Rajapaksa's aggressive politics was the antagonising of the Muslim neighborhood.
The Unending Search for Appropriate Enemies
For Lankan Tamils, the cruellest month had to be July. No defeat or tragedy which befell them was as universal as Black July. It was a common conflagration which spared no Tamil. Poor bottle-sellers and wealthy entrepreneurs, uneducated road-sweepers and highly certified experts, voters and politicians, Hindus and Christians, young and old, leftists and rightists, guys and females, every single Tamil was imperilled by it.
Final year, as Aluthgama burnt, it looked as if Black July will be repeated in June, this time with Lankan Muslims as its target. A private quarrel among a Buddhist monk, his Sinhala diver and three Muslims youths was exaggerated and depicted as an act of Muslim on Buddhist violence. As an alternative of moving swiftly to restore order, the Rajapaksa regime permitted the BBS to hold a public meeting in the middle of the simmering Aluthgama town. "In this country we nonetheless have a Sinhala police we still have a Sinhala army. Right after nowadays if a single Marakkalaya or some other paraya (alien) touches a single Sinhalese…..it will be their end," [i] BBS reside-wire, Bhikku Galagoda-Atte Gnanasara thundered, as the police and the army watched. That is all the guardians of law and order could do, watch, simply because the energy-wielders had been on the side of the mob.
Virtually as quickly as the Eelam War was won, Sinhala-Buddhist extremist groups started inciting anti-Muslim hatred. The Rajapaksas responded with a nod and wink. In the resulting enabling environment, the BBS et al could say anything and do anything, with total impunity. Which policeman would lift a finger against the yellow-robed marauders, right after Gotabaya Rajapaksa attended a BBS function and praised BBS monks for engaging in a "nationally important task"[ii]?
Till Black July erupted, armed Tami groups, like the LTTE, had been starved of funds, arms, recruits, public sympathy and international assistance. Black July took care of every single a single of those issues, spectacularly. The rest is blood-soaked, death-raddled history.
The Aluthgama mini-riot warned that Sri Lanka was rushing headlong towards another cliff-edge, this time of religious conflict.
Deliverance came unexpectedly. Mahinda Rajapaksa held a presidential election two years ahead of time, and lost it. Deprived of state-patronage the BBS et al receded into ineffectuality. Abruptly, and with unbelievable rapidity, the air cleared as racial and religious toxicity decreased drastically. The poison did not vanish fully, but it ebbed to standard, bearable, non-threatening levels.
That alter indicated a basic truth. Anti-Muslim hatred did not come from beneath, from Sinhala society it emanated from above, from energy-wielders. Suspicion, aversion, perhaps even contempt and dislike, these feelings are organic on every side of the religo-racial divide but not murderous hate. That was an artificial construct, a deadly drama staged for political purposes. When the producer-directors were ousted from power on January 9th, the manufactured-hate, deprived of life-assistance, died a all-natural death. Sri Lanka took a decisive step away from one more disaster and towards a largely peaceful future.
Sri Lanka is a pluralist nation. We want to create peaceful mechanisms to deal with the problems and tensions unavoidable in a multi-ethnic, multi-religious society. It is the only possible path to a secure and stable future. Mahinda Rajapaksa did the opposite he turned ordinary differences into implacable divisions and tried to advantage from the resulting extremisms.
This was where Sri Lanka was headed when the presidential election intervened. This is the journey the Rajapaksas will resume if they win on August 17th.
Protectors presuppose enemies and threats. As soon as the Tigers have been defeated, common religio-cultural differences had been repackaged as threats and yet another minority targeted as the next enemy. The anti-Halal campaign, which erupted with virulent suddenness, sowed worry and hate by the bushel, and vanished with equal suddenness, was an excellent case in point.
There is an intimate connection amongst anti-democratic politics and religious extremism. Actual and would-be despots see in intense versions of religion a weapon and a shield for their political projects. In Nigeria it was the encouragement accorded to intense forms of Christianity by the country's military rulers which paved the way for the creation of that horror, Boko Haram. In Iraq, Premier al-Maliki's Shia-supremacism created it possible for the IS to develop from nothingness to the monster it is today. It is an open secret that Myanmar's military rulers are enabling/supporting Monk Wirathu and his 969 Movement. He had openly come out against Aung Sang Suu Kyi (regardless of her unprincipled refusal to condemn anti-Muslim violence) warning that chaos will result if she wins the presidency[iii].
For the duration of a keynote speech at the Kotelawala Defence Academy in 2014, Gotabhaya Rajapaksa characterised Sri Lanka as a nation confronted by a range of threats and enemies. He created distinct mention of Tamil extremists (national and international), left-wing extremists, Islamic extremists, criminal extremists, media extremists, Western extremists, anti-democratic extremists and irresponsible extremists[iv]. If the UPFA wins on August 17th, that brand of politics, which sees an enemy in anybody who is not a servile supporter of the Rajapaksas, will return, a lot more combative and irrational than ever, determined to make sure that January eightth does not take place, ever once again.
Character, Politics and National-fate
Mr. Rajapaksa is obviously incapable of understanding the difference amongst antagonistic and non-antagonistic contradictions. Any act, if it causes him a real or perceived injury, is observed as an act of aggression, enemy-action requiring a decapitating reaction. That was what Mr. Rajapaksa tried to do in Akureassa. He did not bother to feel or purpose he acted, and acted violently.
That was, for instance, the way he responded when then Chief Justice Shirani Bandaranayake incurred his wrath.
Offered Mr. Rajapaksa's determination to take the nation back to the previous and his promises to 'restore the rule of law' the impeachment saga assumes a specific relevance. As US Ambassador Patricia Butenis mentioned in a classified cable (dated 24th February 2010) Justice Bandaranaike was believed to be a Rajapaksa-loyalist[v]. A number of of her controversial decisions indicated this bias. In February 2010, Dr. Bandaranayake headed a bench which rejected Gen. Sarath Fonseka's fundamental rights petition asking for release from detention till investigations against him are completed. The court accepted the Attorney General's rather curious contention that till the investigation is concluded it is not feasible to establish whether there is any explanation to detain Gen. Fonseka. In September 2010, an additional bench headed by her approved the controversial 18th Amendment, in 24 hours.
But Dr. Bandaranayake was no Mohan Peiris. She was biased but she was not an acolyte. And she did draw the line at rulings which blatantly violated the constitution. In December 2011, a bench headed by her decreed that the Town and Nation Arranging (Amendment) Bill can't be presented to parliament with no the consent of all the provincial councils as land is a devolved subject. This controversial bill would have provided the Minister of Buddha Sasana and Religious Affairs the energy to take over any private land just by declaring it a 'Protection Area', 'Conservation Area', Architectural or Historic area' or 'Sacred Area'. Then in September 2012, a bench headed by her produced a related ruling vis-a-vis Basil Rajapaksa's Divineguma Bill.
Within months a bogus impeachment motion was brought against her and she was hounded out of her post.
Either you are with us totally or we will destroy you totally was a key premise of Rajapaksa thinking and Rajapaksa rule.
Going by electoral statistics and trends, the UPFA will not win the upcoming election nor will it turn out to be the single largest celebration. Mr. Rajapaksa as a result will not turn into the prime minister. That is certainly fortunate, because back in power, he will plunge the nation into a series of conflicts. He will battle with President Maithripala Sirisena for energy and with the UNP and the JVP for Southern dominance. Inciting anti-minority sentiments will be a essential weapon in both these conflicts. The nation will grow to be embroiled in a chaotic scenario, as every institution (such as the military) is divided along pro-Rajapaksa and anti-Rajapaksa lines. Even the SLFP will not be spared, if the hostile treatment meted to these SLFP candidates who are not out-and-out supporters of Mr. Rajapaksa is something to go by.
Multiple confrontations, instability bordering on chaos, a country fractured beyond salvation, that is what a Prime Minister Rajapaksa will give us. He is not capable of something else.
The safety wants and issues of a country at peace are diametrically opposite to those of a nation at war. The last issue Sri Lanka needs nowadays is the return of the Akuressa Man.
---
[i] https://www.youtube.com/watch?v=iOxPJzlXDJs
[ii] Sri Lanka Mirror – 10.3.2013
[iii] http://www.irrawaddy.org/burma/suu-kyi-presidency-bring-chaos-says-firebrand-monk.html
[iv] http://www.kdu.ac.lk/notices/news/82-events/214-sri-lanka-s-national-security-concerns-element-two
[v] https://www.colombotelegraph.com/index.php/wikileaks-chief-justice-shirani-bandaranayake-is-a-rajapkasa-loyalist/