–
Review of Narrative of Justice: told through stories of torture victims, 400 cases of torture from Sri Lanka, By Basil Fernando, published in 2013 by the Asian Human Rights Commission.
My first impression was that I was overwhelmed because of the sheer number of cases and the diversity of the ways in which people were tortured. What started sinking into me was the question, "What has happened as a result of all this? Has society taken notice of it?" How can people possibly stay indifferent after reading this?
Let this book sink into the consciousness of the people. Let people start talking about it. And as they start talking about it, they will find difficulty accepting that this happened in their midst. This is not something they can erase by saying it happened in the past. It is something which is very much there and will continue as a transgenerational trauma for the people.
These narratives of trauma will seriously affect the fabric of society even 50 years from now and affect how people become immune to happenings around them; until and unless there is accountability and people decide to act.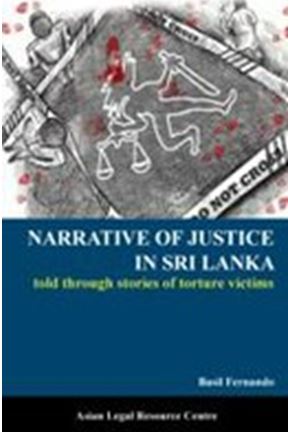 It has been seen that until and unless we start accounting for trauma happening in our midst, it starts affecting every trade, every core, every part of society in different ways, and becomes a part of society like a cancer or virus and grow and grow. And until and unless people are made accountable – and I don't mean accountable in the legal sense, I mean accountable in the moral sense, accountable in the sense of accepting it – it would be very difficult to call Sri Lanka a mature society at any time in the near future. If we see societies, in their growth and their evolution, they come to a point when they have to take accountability for their wrongs before they can become mature. We see that for any society to call itself a developed or mature society, at some point they have to account for the wrongs they have closed their eyes to. For example, America had to deal with the issues of slavery and the Vietnam War before they could cross over to the next phase.
To me, what I am reading in this book is appalling, it is abhorrent. I am an Indian, but when I see that this has happened right across from me, it makes me feel, 'My God, how can we stay indifferent to it?'
The maturity of a society is a very important issue. What you find when you read through these cases is that the events relating to which such serious acts of torture have been done are trivialities. Somebody loses some small thing and then a person is brought to the police station. Without even asking them a single question, that person is tortured. Sometimes they are beaten, hung on a beam and, in recent cases, chili is put on their private parts and eyes. These acts are done by average law enforcement officers. Looking at this treatment from the point of view of a human being, we understand that there is something radically wrong. They do not seem to feel critical, they do not ask, 'Should I do this kind of thing?' Nobody seems to be asking that question.
We are not seeing something new. The only thing about this book is that it has recorded something that has been going on for a long time, virtually since a policing system was established. In the modern sense, a policing system comes into being in Sri Lanka only with the British. They celebrated their 146thth anniversary for the formal start of the policing system recently. Ever since that time, there has been a big contradiction involved. On the one hand, this is the way through which you introduce the idea of justice; if a murder takes place, there should be justice in court. Justice meaning justice for the victim, and also justice for the accused. On the other hand, at that very same point, law enforcement agencies began to do very stupid things and seriously affected the legal process. This has gone on for so long.
The fact is that, at the moment, people are immune, and not necessarily due to fear. Fear may play a part due to insurgencies in recent times, but police torture did not begin with insurgencies. Endemic police torture began much earlier.
When the book was published, we were not revealing anything that anybody didn't know. The book puts in print form what many people haven noted. They may not have noted it in detail because people tend not to look at some issues, so the book gives an enormous amount of details.
The book is, first of all, a collective. When you read an individual torture case, the human mind brushes it aside. It is very difficult to stay with it. The next thing we do is deny its significance. We say, 'Oh, it was an individual case,' or we somehow rationalize that the person deserved it. This book puts cases together, which makes many people say, 'All these people who were tortured, they did not deserve it.' There are so many cases, so many – I was trying to see why they were tortured; it seemed to be for trivial reasons, it didn't make sense. They could have used simple questions. 'Did you do this?' 'Did this happen?' People are tortured about the most trivial, most inane things.
A book like this makes it very difficult for people to discount and dismiss torture. Torture rests on the denial of society. I would say that the more we have thicker, fatter book, the more we have collectives, the more it will shake the conscience of people because you sometimes need a big impact in order to shake people up. Individual cases, five cases or ten cases do not do that; but if you have five hundred cases, one thousand cases, then it shakes you up. Simply speaking, it makes you ask, 'What is happening in our society?'
Even the most pessimistic person would say that at least 90% of the people in these cases did not do anything close to deserving this treatment. The most common reason I have seen for the acceptance of torture is the belief that the tortured person was probably a thief or a terrorist, or in some other way somehow deserved it.
This kind of a book cuts across that whole argument without explicitly saying so.
Another issue is the overall effect on society from the behaviour of the police. Here you have a seriously disturbed police/society relationship. To my understanding, it is not something that is going to go away, because it has been established on a mass level.
In societies that have such a mass level of torture by the police, there is a serious rupture in the law enforcement and in the concepts of justice and society, because most people only see justice through the prism of the police.
If I look at police torture behaviorally, one of the things I notice is that when policemen torture regularly it becomes a part of them and even when they are just talking, even in inane conversations, there is some aspect of torture coming through.
When I was asked by the courts in India to do interviews in prisons and detention centers, I would often have the following experience: I would be interviewing and making some progress. A police officer would enter the room just to find out what was happening and I would say we were talking. (Whether it was a suspect or a witness, it was immaterial.)  He would say something to the effect of, "Oh, they haven't told you everything yet?" and he would go and slap them hard. It would happen right in front of me and I became quite particular about sitting in such a way that I was blocking the door so that they wouldn't be able to go to the person straight away. They would move so fast after asking whether the witness or suspect had told me everything.
This interaction would be about several things: the person has wasted my time, police time, and he has no right to do so; and a slap or a hit is something that is very natural, so why shouldn't I? This officer, not someone who has been involved in the interrogation or investigation, would think that because he has slapped the person I was interviewing, that person would tell me everything. And since I can't and won't slap – I was known to the police as a gentleman talker, they would laugh about it –  this would somehow be the last straw that would make the person talk.
And then the officer would immediately turn back into themselves, and they would say, "Dr. Mithra, why don't we go and have a cup of tea? I have given them something to think about." He would turn to the person and say, "We are coming back in five minutes and I am going to show you what I can do."
It would ruin everything. Whether the interviewed person is innocent or guilty, no person deserves to be slapped or talked to like that. It has become a part of these police officers. Slapping has become a very routine thing for them. They cannot talk without slapping.
The same thing happens to policemen who have had no formal training, who are corrupt, and where the system for the rule of law has completely fallen apart. There is no notion of what they are supposed to do with a suspect or a victim, except that they need to use brute force in order to get at whatever they want; and they seldom want the truth. People who search for the truth know that violence is divorced from truth. Violence and truth never go together. With these policemen, violence has become an integral part of them.
These people, when they are called up – if a cycle has been lost or something similar – automatically start with violence. That is a sign of a sick police force and its sick relationship with society.
Any sane society needs to look at it very seriously. The situation is comparable to India and Pakistan, where the police is also very sick.
What we see from the police is a very mechanical and reflexive reaction to suspects and how they should be dealt with.
It is possible to deduce some things from the behavior of a policeman who assaults interviewees, as mentioned above. Firstly, it is clear that he is not a thinking being. He is not observing anything. A rational person who wants to know what is happening would ask how it is going, would ask if he could talk to me privately. These officers would do none of that. They would just walk in and slap. It is a person who is not a thinking being, who has no value for truth, and who is not compassionate at all. Interestingly, when I would talk to them about compassion, they would say that a policeman should not be compassionate. I would say that you can be tough and yet compassionate.
What we are seeing is a model. A model has been inbuilt into these people with certain ideals. An ideal, for example, of not being compassionate. 'If I am to achieve anything, I should not be compassionate. I should be tough, physically tough.' It's a kind of model within which thinking has no place.
Thinking has been replaced with violence. There is no place for thinking, exploring, finding out. I think that the police force should be able to think clearly. It scares me because, for police who cannot think clearly, the only recourse left to them is violence and to go about things in a tragic way.
The second issue is compassion and it is very interesting that, in many interviews with suspects, they disclose information only if someone is talking to them compassionately. It doesn't mean condoning anything. I have to be tough and go about finding information, but I can understand why they may have done something, how they may have been brought up. Many people share more when they speak to someone who they think respects them. Police officers, particularly the ones in charge of interrogation, may do well to learn this principle. Then torture would go down significantly and they would be much better at solving their cases.
Training
The above idea of teaching interview skills is, of course, in line with our ideals; the ideals of rationality. However, if we try to understand what has happened to create a situation like this, some other problems come to mind. Although we say that, from the point of view of proper training, there have been no interview and other skills taught, there has actually been a kind of training going on. It is a training that is based on officers from the earlier generation; when a young man comes to work, he is trained like an apprentice. On the job training.
They are brainwashed and conditioned into accepting certain ideals, which should be brought to the surface more. They believe that when they are dealing with criminals, they need to give up the idea that violence is bad. In this particular job, they tell themselves, violence is valid. There is a big contradiction in their whole philosophy. The law enforcement officer is supposed to eliminate violence in the whole of society. But they have an idea that that can be done only through violence.
What is the cultural model here? We are not dealing with abnormal people or anything like that. We are dealing conditioned people who have gone through a long period of training – a different kind of training, true – but with different kinds of ideals.
The training in the South Asian context has primarily been about law and order. It has never been about investigation. The police have neither been taught nor know that their goal is supposed to be to value truth. The younger officer always learns about torture from his senior officer. He sees that the only thing that can save his skin is a confession. It doesn't matter whether the person confessing has done anything or not, they just want the confession.
There is a formula that is used in investigations. Fa + L = C, where Fa, 'force of assertion' plus L, 'leverage', equals a confession. In that, the more force the officer applies onto a person, the more likely that the officer will get a confession for himself. And the officer learns that this is how he can do well at his job, how he can excel, so he feels he needs that confession at any cost. Truth is actually the biggest casualty and nobody bothers about that.
Once they have the confession they have to move onto another case, but the goal is just that, the confession. The role model for that officer is the senior police officer. You can see that the senior police officer has been trained by his senior officer and, if you asked them, they would say that nowhere along the way has anybody taught them the rules of scientific investigation or about how to conduct interviews and interrogations. These things are not known to us in the South Asian context. I have observed training sessions in several police academies and when I asked the trainees and officers which model they use for investigation, they would say, 'What models are you talking about?' There are well established models that are used by other police forces but they are not used much in South Asia.
For example, there is a model called the Reid model. It is a seven stage process where you lead a suspect through different stages to see whether they have done it or not, and at the end the closest you can come to is 'yes, there is a possibility that he may have done it.' You leave it there because you know that there is a possibility that you may be wrong. This is an area that is highly subjective, emotions are very volatile, and where your bias can affect you. What you see from this book is that there is nothing remotely like this used when dealing with suspects – or rather, in dealing with any person who is called to the police station. What they actually do is completely crude and, in a way, inhuman and barbaric. What scares me is that these officers are actually bigger criminals than the criminals outside. So are people going to say that they are managing their society with these people? Because someone whose thinking is warped can't solve problems, someone who has no compassion for people should not be doing such an important job. How can a sane society be expected to have a police force like this? That is the question.
What this book does is to provide a considerable amount of evidence on a cultural model.
It establishes how normative it is, how deeply it has gone in, and it completely ridicules the idea that torture is linked with terrorism, ethnic violence or any other serious issue from which society faces danger. I mean, does society face a danger from someone who is suspected of stealing a bicycle? It is ridiculous. If you are taking torture to that level, it completely debunks this idea that torture is essential for maintaining society, for protecting it from terror or anything like that.
This is plain inhuman violence that they are doing to their own people.
The title of this book is Narrative of Justice. It is essentially a narrative of the absence of justice in the process of investigating crime. If we take it deeper, in the cultural model, something further gets revealed. In most of the cases, people are taken in for trivial matters. But then what we find is that, when it comes to serious crimes, these very same people don't use the same method. There is almost an indifference to dealing with crime. Taking two examples from Sri Lanka: A DIG of police has now been arrested because he took three million rupees to kill a businessman, who had taken some 30 million rupees from another businessman. That businessman hired a policeman to assassinate the other. Another example: there was another case where one politician, along with a gang of drug addicts, shot at a group of people, including a prominent politician, and five people died. He is still a Member of Parliament.
In both serious criminal cases, nobody used violence on them.
The police keep a certain façade of doing some activities, filing cases, getting some confessions, and then putting them on paper. Whether, after three or four years, someone is acquitted etc., nobody is bothered. In virtually all these 400 cases, there are no trials. They don't go that far. They aren't bothered. They have to pass through the moment when there is a report of a crime. Some reports have to be filed about it so they get their promotion and they can remain in their job. If they don't, they get into trouble. Within this cultural model, justice seems to be completely absent, and that is more shocking.
Torture is most often not used in serious crimes; rather, it is used for when someone is suspected of a petty crime. For serious crimes, crimes of mass violence or political crimes, the police hold off until and unless they feel that they have sufficient backing in case things go wrong. They tread carefully in those cases. When it comes to small crimes, most police officers are much more bothered about the numbers. They always say that there should only be a small number of crimes in their area – and by crimes they mean petty crimes. That is something that they think they can reduce by creating a climate of fear.
One of the most common things they say in India is, 'They are no longer scared of us.' They confessed and lamented about that to me when I was working there. 'People are no longer scared of us.' Making people scared of them has been the most dominant tool in their hands, and the more they use that indiscriminately, the more they are successful police officers in their own eyes.
It is partly about the numbers. The more they do it to a larger number of people, the more that they are successful police officers in their own eyes. Their self-image is much better if they have done it to a larger number of people.
In a police officer's thinking, it would go like this: today, if I have slapped 10 boys, then I have done my job. But if I say that I have slapped one person who is involved in political crimes, then that doesn't fit very well. So how many people have I slapped, how many people have I beaten, how many people have I put fear into? This is one of the primary ways a police officer actually retains their self-esteem in our countries. The number here matters a great deal.
We are dealing with something very serious. Something very deep, culturally; even the model of how police measure themselves. However they were beforehand, once they enter this work and become integrated into the system, their own self-image undergoes a transformation.
They have to slap, beat, torture people in order to be good at their job, and this is the way they to be a successful police officer. This is what is told to the new people who join by their seniors.
It is a police force who cannot actually be part of a sane society in any way. They cannot talk without violence; they cannot talk without slapping or hitting. A police force that cannot talk properly is a very sick police force.
What we are actually confronted by in this book and other evidence is the need for a complete shift of orientation in the policing system. In other words, it is not about crime investigation that you have to first agree on. First they must ask, 'What is this for? What are the social objectives this serves?' When those objectives are changed, then new kinds of models develop, people are trained and people operate within that model.
But we have created a certain model years ago, maybe by accident. Maybe they couldn't run a system – when these systems were introduced by the British, they were a colonizing power and they had limited resources, and their own thinking was limited in their own countries, where there wasn't policing as it is today. We should approach this problem by searching for what the cultural model is here and why, rather than to find a few patches of this or that solution. What is first needed is a societal discussion.
In India, there are two kinds of police stations. Some are old police stations, and some are the new ones coming up. How do you separate the two? The old ones only have police barracks. Why? Because during the British times, colonial times, and after, it was felt that it was best to separate the police from the local people as much as possible. If they were closer to the local people, they would be more compassionate. That was not allowed. Changing that idea in India has been a very tough issue. We still have some who say, 'No, it should be separate, they should not be allowed to meet.' Even today, some think that police are not supposed to mix and deal with people except for the purposes of spying and collecting information. They are not really supposed to try to understand because that is supposed to make you very subjective and very weak inside. You have a situation in the whole of South Asia in which there is a very deep rooted malady, where the police force is trained to produce only fear and psychosis in the population. That is what needs to be attacked in order to create a sane society. The longer it remains, the longer society remains unable to heal.
This book goes further than the police and goes into insights into the overall society. There are things that, in the modern sense, would be called 'insanity' and we somehow pretend to accept them, pretend not to notice, and we carry on. There is something sick and deep, and this can be the beginnings of a discussion with this kind of evidence placed in front of people. This requires very serious thinking about the society itself.
When the police is unable to discharge its functions, the society is one step closer to cracking down again, closer to anarchy, tribalism, baying for the blood of people, like what you see happening in Dehli recently with all the mass demonstrations taking place. Nobody trusts the police; everybody sees them as corrupt.
*Dr. Rajat Mitra is an internationally reputed Indian Psychologist